I enjoyed my first ever taste of Vets Track and Field on Saturday as I ventured to the track at Monkton for an afternoon of racing. Having entered three races (1500m, 800m then a 5000m) I decided after the way my legs were post 3000m on Tuesday that I would stick to the 5000m only.
When I arrived at the track I picked my number up and was easily persuaded to enter the open mile at 2.15pm (an hour at least before my main event the 5000m). Thinking this would be an opportunity to post a time for the mile (my first ever race over that distance on the track) and a chance for a decent warm up pre 5000m.
In the end quite a competitive field was assembled with Sparrow Morley of Tyne Bridge and Jason Stobbs of Gateshead leading out the first three of the four laps. Kenny Mcpherson of Tyne Bridge made a bold move on the final lap and opened up a gap between us and then promptly chased Stobbs down to move into 2nd. I found a final push to grab 3rd on the final straight having somehow found a sprint finish from somewhere! My mind then switched to the next event the 5000m.
Having experienced the wind on the track properly during the mile I decided that times and pbs were not going to be easy today so I decided (literally at the last minute) to have a go at the 800m as well. In the end I finished 3rd in 2:26.5 after a competitive race which was won by 800m specialist Norman De Bruin of NSP in 2:15.3 followed by George Harden of Sunderland who held on for 2nd in 2:24.6. As both athletes in front were in different age groups I ended up with the Gold Medal for vet 40's! Who would have guessed that one in only my 3rd ever outing over 800m! Is there a future in that distance for me...maybe not!
Onto the final event (legs feeling pretty tired now!) I led the 5000m from about two laps out to 11 and a half laps before Tim Field of Sunderland Harriers showed me a clean pair of spikes and took the win in 16.42. I came 2nd in 16.49 which under the circumstances (2 races in the bag already) and the weather I was very pleased with. A solid run! Again the athlete in front of me was in a different age group so by default I became the Gold Medal winner in the Vet 40 age category. Happy days!
All in all a great afternoon of racing, good company and everything about the event was well organised with excellent officials, results coming out very quickly and bags of enthusiasm from all involved - well worth the journey! Well done to Vicki Thompson for putting on a great event!
http://www.thepowerof10.info/results/results.aspx?meetingid=61646
It was great to see lots of athletics on the television over the weekend and for me the highlights were Laura Weightman's domination of the women's 1500m , the gutsy performance by the young Jessica Judd in the women's 800m final and Jo Pavey's finishing sprint in the 5000m. A couple of other notable performances were Kenenisa Bekele's 27.02.59 in the 10,000m and the amazing 50 year old Roald Bradstock throwing an amazing 72.78 meters to finish 2nd in the javelin. He is ranked 5th on the all time list and is still producing the goods!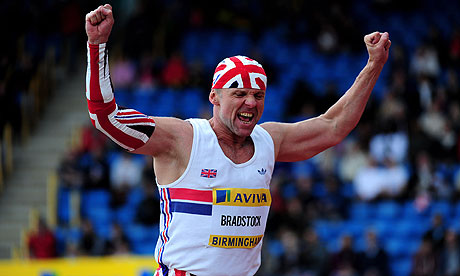 Go Ro!
I would like to wish fellow blogger Alan Dent a swift recovery having fallen ill during the 1500m race on Saturday. Get well soon Alan! You can read Alans Blog at:
http://dentysrunningblog.blogspot.co.uk/
I certainly enjoyed the weekends athletics far more than the weekends football.....enough said!