Thankfully not me this time but two of the worlds greatest athletes of the moment have crashed this week.
Mo Farah crashed in a mile race in an indoor mile race in Boston but unfazed he went onto record a personal indoor best of 3.57.92 finishing fourth in the race which I am sure he expected to win...however a personal best is a personal best and I am sure he will pick himself up (literally!) and go onto bigger and better things in 2012!
http://www.nbindoorgrandprix.com/news/98/60/Action-was-fast-high-and-dramatic-at-2012-New-Balance-Indoor-Grand-Prix/
The second big "crasher" of the week was Mark Cavendish who crashed out in the Tour of Qatar cycle race. I loved his matter of factness in the interview - his helmet had disintegrated, he had scraped his head along the tarmac resulting in a bit of a bad neck which might need some treatment oh and not forgetting half of his skin from his elbow and shoulder left on the tarmac...usual cycle injury stuff he said with a smile! Wow that guy is one tough cookie!
Check it out here...
http://www.guardian.co.uk/sport/2012/feb/10/mark-cavendish-crash-tour-qatar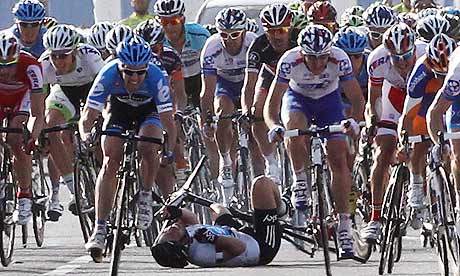 Ouch!
I would like to think I have found some toughness this week with a decent week of 73 miles which included long runs of 11 miles, 14 miles and today an 18 miler.
My run today was a pre 7am start and the first mile easy jog soon turned into a decent effort where I ran the 18 miles at an average of 6 mins 44 per mile. Very happy with that but once again happy with the negative split with the first 9 miles covered in 62.04 minutes and the second 9 miles covered in 59.11. Those who train with me regularly know I bang on a bit about negative splitting but it is important to finish a long run positively - I am sure there were a few miles left in the legs this morning as I felt strong but with 12 weeks until marathon day there is plenty of time to go!
Next race I think for me will be Thirsk 10 on the 25th March hopefully in my new "New Marske Harriers" vest as long as UKA are lenient in my "ban" for changing clubs.
A great performance from New Marske Harriers Andy Wiles in Armagh this week clocking a cracking 14.11 for 5km which is a New Marske Harriers club record....testament to the hard work that he puts in I am sure. Check out the results and a link to a pre race interview he blogged.
http://new-marske-harriers.co.uk/index.php/en/
Onwards and Upwards !